Doncaster library legal battle lost by Carol Buck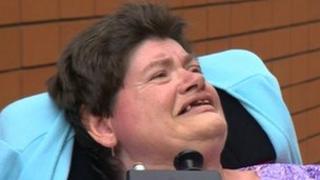 A disabled woman from South Yorkshire has lost her legal challenge against an elected mayor over library funding.
Carol Buck, from Doncaster, mounted the legal action against English Democrat Mayor of Doncaster Peter Davies.
In March, he overruled two thirds of councillors who voted for an amendment to allocate funding to the libraries.
Dismissing Ms Buck's challenge at Leeds Combined Courts, Mr Justice Hickinbottom said the mayor and his cabinet acted "properly and lawfully".
'Time of cutbacks'
Ms Buck said she was "disappointed" by the ruling.
A hearing last week was told Mr Davies and his executive cabinet decided in November to close two libraries, with 12 more to be run entirely by volunteers.
The full council voted on an amendment to allocate some of the budget to help put paid staff into the affected libraries.
Forty-three councillors voted in support of the amendment, with six councillors voting against and three abstaining.
But Mr Davies said he was not going to change the budget despite the outcome of the vote.
As a result of the cuts, Ms Buck said she was no longer able to visit her local library as it had been closed.
Giving his ruling, Mr Justice Hickinbottom said he appreciated the closures would "adversely affect" Ms Buck.
However, he could only interfere if the mayor and his executive cabinet had acted unlawfully, he added.
"In my judgement they have exercised their functions properly and lawfully," he said.
Mr Davies said he was "pleased" with the judge's ruling and that the case should never have gone to court.
"I am furious that this has now cost the taxpayers of Doncaster over £30,000. At a time of cutbacks, this is money that could have helped to save jobs."
Ms Buck said while the ruling was "upsetting", her supporters would be examining the judgement in detail to see if any further legal avenues were open to them.