Doncaster woman's library legal battle judgement reserved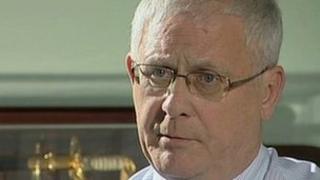 A disabled woman at the centre of a legal challenge against an elected mayor over library funding will find out the result next week.
Carol Buck, from Doncaster, mounted the legal action against Mayor of Doncaster Peter Davies.
In March, he overruled two thirds of councillors who voted for an amendment to allocate funding to the libraries.
The verdict for the judicial review at Leeds Combined Court Centre will be heard next week.
Mr Davies, an English Democrat, proposed that two libraries would close and 12 more would be run by volunteers.
'Wide-ranging impact'
Forty-three councillors voted to include the budget amendment. Six councillors voted against and three abstained.
David Wolfe QC, representing Ms Buck, said the mayor had "set his face" against the amendment from the very beginning.
"He's decided at the very outset not to draw down the money come what may," said Mr Wolfe.
Nigel Giffin QC, representing Doncaster Council and the mayor, said the full council did not have power to give directions to the executive about how to perform its role.
"The council sets the budget and the mayor decides how to spend it," said Mr Giffin.
Mr Justice Hickinbottom said: "The issue in this case is [that] the directly elected mayor and the full council do not agree on the facilities Doncaster Council provide. Who has the last word?"
Doug Wright, from campaign group Doncaster Save our Libraries, said whichever way the decision goes, it would have a wide impact.
"It's not just our libraries, but libraries in other authorities which could be in a similar position," Mr Wright said.
"It's all-important that we get the result. It affects everybody."
Representatives from Doncaster Council attended the hearing. Mr Davies was not in court.