New Rotherham United stadium hosts first football match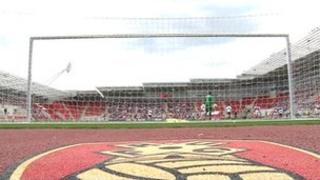 Rotherham United has played its first game at its new home - the £17m New York Stadium.
The Millers won 2-1 against Barnsley in a pre-season friendly match on Saturday.
The 12,000-seat venue is yet to be fully completed with the capacity reduced to half as flood prevention works continue, the club said.
Chief executive Paul Douglas said fans would however be impressed despite the reduced facilities.
"We've made our fans aware about the ongoing works and issues, and I don't think a couple of kiosks not being opened is a major issue at all," he said.
"It was always going to be a half-capacity for this first game and the next game and nothing's changed."
A spokesman for the club said: "To the naked eye everything appears OK at the ground. We're ready to play football. It's the office side of things that need finishing off."
'National acclaim'
Mr Douglas said there was a huge interest in the stadium, with all 6,000 tickets being sold out for the first game.
The stadium occupies a central position in Rotherham town centre, on the site of the former Guest and Chrimes foundry.
Club chairman Tony Stewart said the venue had already attracted attention from football fans outside South Yorkshire.
"I've had one or two people - Tottenham, Chelsea people - talking and saying 'what's happening in Rotherham?', so it's certainly getting national acclaim because of its style and investment.
"I'm expecting people to come along and have a look at us and see what Rotherham's doing, not just building a stadium but building a town and a culture."
The club has been playing at the Don Valley Stadium in Sheffield since 2008.