Laura Wilson murder: Report concealed sexual exploitation fears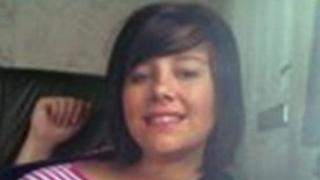 An official report concealed details relating to the sexual exploitation of a murdered teenage mother in Rotherham.
Laura Wilson, 17, was killed by Ashtiaq Asghar in Rotherham, South Yorkshire, in October 2010.
A serious case review published last month blanked out details relating to her sexual exploitation.
Rotherham's Safeguarding Board said details were redacted from public copies to protect the privacy of Laura's family.
The serious case review highlighted agencies had missed "numerous" chances to support the teenager who was later murdered by her 17-year-old boyfriend.
The report found social services managers said her care could have been better, but her death could not have been prevented.
The safeguarding board said in the report it had redacted the "equivalent of around eight pages of text out of the more than 160" to "protect the privacy and welfare of Laura's daughter and immediate family".
Alan Hazell, independent chair of the Rotherham Local Safeguarding Children Board, said the redacted information "in no way dilutes the content and impact of this report".
'Sexual targets'
Asghar, of Holmes Lane, Holmes, Rotherham, lured Laura to the canal side near the Meadowhall Shopping Centre and attacked her with a knife.
He stabbed her a number of times in the head but she was still alive when she was left in the water.
Asghar had a relationship with Laura, who had a four-month-old daughter with his friend Ishaq Hussain.
He killed the teenager just days after she revealed her affairs with the two men to their families.
The judge at the trial, Lord Justice Davis, said he believed Asghar treated white girls as "sexual targets" and not like human beings as he sentenced him at Sheffield Crown Court last December.
Asghar was jailed last December for at least 17 and a half years after he admitted murdering Laura.
Mr Hazell said: "The board refutes in the strongest possible terms any suggestion that information was redacted from the published report for any reason other than to protect the privacy and welfare of the Laura's daughter and immediate family."
He added: "All agencies in Rotherham have been at the forefront of work to tackle sexual exploitation of young people through both preventative work and education and criminal investigations."