Margaret Drabble inducted into Sheffield's 'walk of fame'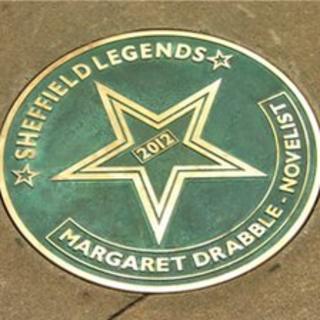 The Sheffield-born novelist and critic Dame Margaret Drabble has been inducted in the city's "walk of fame".
Dame Margaret was born in the city in 1939 and had the first of her 17 novels published in 1963.
She was appointed CBE in 1980 and DBE in 2008 and holds an honorary doctorate from the University of Sheffield.
Ms Drabble said: "I feel immensely pleased and proud. I can't tell you how delighted I was. Tears of joy sprang to my eyes."
The writer said appearing next to celebrities including Joe Cocker, Sean Bean, Michael Palin and Jessica Ennis who already star on the pavement outside the town hall, gave her "street credibility".
The bronze plaque will feature alongside the other 17 plaques, nominated by the public and chosen by an independent panel.