Dodworth residents' joy after nickel site plan withdrawn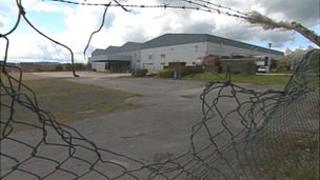 Plans for a nickel recycling factory in South Yorkshire have been withdrawn following a campaign by residents who feared it could impact on health.
ELG Haniel Metals had applied for permission to build a waste treatment plant on Fall Bank Industrial Estate in Dodworth, near Barnsley.
Barnsley Council said the application had now been withdrawn.
Resident June McGrow said: "It's people power all round. We're absolutely delighted."
If the plans had gone ahead, the plant would have washed and dried high nickel alloys to allow it to be reused by the aerospace industry.
The company had earlier said its plan was robust and people had no need to fear for their health.
Mrs McGrow, who lives on the adjacent Champney Fields estate, said residents' main concern had been "the associated chemicals that were going to be spewed into the atmosphere".
"It was going to go across businesses, residents, schools, hospitals and all across surrounding villages. We're just so relieved," she said.