Sheffield Ski Village is destroyed in fire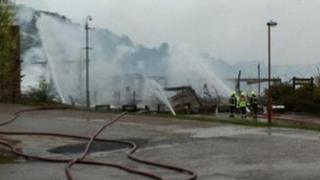 A fire, which broke out in the early hours of Sunday, has destroyed the Ski Village building in Sheffield.
South Yorkshire Fire and Rescue were called to the centre, off Vale Road, just before 01:00 BST.
Five fire engines and 25 firefighters attended the blaze. No-one was injured.
Fire officers said a 200m cordon remained in place around the centre as there was a possibility acetylene cylinders were inside.
Stewart Nicholson, from South Yorkshire Fire and Rescue, said: "We suspect acetylene cylinders are inside the building but we have not confirmed yet if we have been able to put water on the cylinders."
Vicky Lloyd, general manager at the Ski Village, said: "We are absolutely gutted. The business has been running very well and we were due to be nearly full today with children's parties. For us this is very difficult."
Mr Nicholson said the fire investigation would not begin until Monday at the earliest due to the amount of water used on the fire.
He said at the height of the blaze crews were pumping around 3,000 litres of water per minute on to the fire.