South Yorkshire strike possible over new fire unit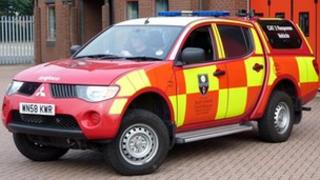 Firefighters in South Yorkshire have not ruled out strike action over an argument about tackling small fires.
The fire service wants to introduce a small incident unit (SIU) in Sheffield to extinguish grass and rubbish fires.
The Fire Brigades Union (FBU) said it believed a "fully-staffed, fully-equipped fire engine" was best, even for small incidents.
South Yorkshire Fire and Rescue had wanted to begin using the unit at Elm Lane fire station.
The move has been blocked by the FBU which has advised its members not to carry out training on the vehicle.
John Gilliver, from the FBU, said: "The SIU is not too dissimilar to a jet wash."
He added that the vehicles were "not fit for purpose".
Mr Gilliver said if the SIU was called out to a bin fire, but the bin was then pushed against a house, the SIU crew would be in a "quandary" as it could not tackle a house fire.
'Times are changing'
He said: "Our members are calling for some action to be taken. I hope it doesn't end up at strike."
The planned introduction of the SIU follows the removal of two fire engines from Elm Lane and Mansfield Road as part of a £10m savings plan.
Mark Shaw, temporary deputy chief fire officer, said the vehicles had been independently approved and he could see no reason for the 4x4 units to be withdrawn.
He said: "We need to look at retaining the fully-fledged, fully-staffed fire appliances to respond to the type of incidents they are designed for and that's life-threatening incidents."
"Times are changing. We have to operate in a new climate so therefore we need to look at new ways of working."
The fire service said the SIU had attended almost 700 fires and had been operated by more than 30 firefighters from part-time fire stations since 2009.
South Yorkshire Fire and Rescue service said it would continue to hold discussions with the union.