David Blunkett attacks South Yorkshire Police PCSO plans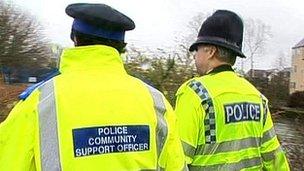 Former Home Secretary David Blunkett has criticised plans to replace traditional beat bobbies with police community support officers (PCSOs).
South Yorkshire Police's plan would see PCSOs rebranded local beat officers as the public's "first line of contact".
Mr Blunkett, whose constituency would be affected by the changes, introduced PCSOs in 2002. He says they were never intended to replace police.
The plans are to be discussed at a police authority meeting later.
They have been put forward by the force's new Chief Constable David Crompton who said the measure would help free-up regular police officers for other duties.
Police officers would then move to "taskable teams" and would be available to deal with more serious incidents.
Mr Blunkett said: "Community support officers are intended to be part of neighbourhood beat teams and not a replacement for them.
"It would be deeply regrettable if we reverted to the Z-Cars era of flying squads and concentration on reaction rather than prevention.
"We learnt the lessons from that, which is why from the mid-1990s to the present time we have seen such a dramatic drop in crime."
However, he said there could be room for a bigger role for PCSOs, alongside regular officers.
"I certainly would not be against PCSOs being given additional powers, but as part of neighbourhood policing, where warranted officers will always be required to conduct arrests, develop good scientific forensic investigations and build the kind of community policing which engages those living there rather than seeing the police as a crisis force only."
The proposals recommend that PCSOs receive extra training to prepare them for their new role and responsibilities.
Mr Crompton said the number of police officers and PCSOs in South Yorkshire would not be affected if the proposals were introduced.
"Nobody is being taken away from these areas. They will get exactly the same sort of coverage they have done," he said.
PCSOs were "the glue that sticks neighbourhood policing together," Mr Crompton added.
Jim Lucas, from the South Yorkshire Police Federation, which represents rank-and-file police officers, said he could not accept the proposals.
"What we don't want is for police officers to only turn up when someone needs either arresting or dealing with," said Mr Lucas.
"We don't want to be seen to be the bad guys. We've spent years and years with communities building up a relationship with the police."
Commons Home Affairs Committee chairman Keith Vaz said the proposals, if approved, would mark "a serious departure from traditional policing".
"PCSOs have a great role. They are part of the team, but they are not the team and the danger is that the whole nature of policing changes, because there is a belief we have to save police officers from doing what is the most important bit of their work - which is to engage with the public - to arrest people when there is crime and to make thorough investigations when crimes have been committed," said Mr Vaz.
The public expected the police service to be about regular officers out on the beat, Mr Vaz added.
A Home Office spokesman said: "How officers are deployed is an operational matter for the Chief Constable and their police authority."
Related Internet Links
The BBC is not responsible for the content of external sites.