Samsung backs £5bn Hatfield carbon-capture project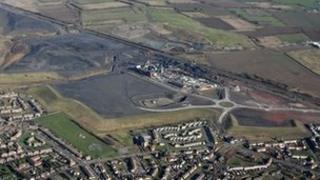 Technology giant Samsung has agreed to take a 15% stake in a £5bn power station and carbon-capture-and-storage project in South Yorkshire.
The power station in Hatfield, near Doncaster, would capture millions of tonnes of carbon dioxide which would then be stored on North Sea oil fields.
UK firm 2Co Energy was awarded planning permission for the project in 2009 and £164m of EU funding.
It said Samsung's support was a "major vote of confidence" in the project.
2Co Energy hopes to start construction in 2013, if bids for further UK and EU funding are successful.
The financial terms of the deal with Samsung C&T, the South Korean company's construction arm, have not been disclosed.
Jobs boost
2Co Energy said the Don Valley Power Project would supply low carbon electricity to one million UK homes from the end of 2016.
It is thought the project would create 2,800 construction jobs and another 500 when it is in operation.
As part of the deal, Samsung C&T will take on the engineering, procurement and construction contract for the scheme.
Yeon-Joo Jung, vice chairman and CEO of Samsung C&T, said: "The Don Valley Power Project is defining the future of low carbon energy generation in the UK and we are delighted to be part of the project."
Lewis Gillies, chief executive of 2Co Energy Limited, said: "The Don Valley Power Project is the largest and most cost-effective CCS project in Europe and Samsung's capability, strength and scale now make it Europe's most deliverable CCS project as well.
"The regional infrastructure created by the project will help the UK lead a clean industrial revolution that keeps the lights on and boosts jobs, green growth and innovation."