Sex offender increase at Moorland Prison 'outrageous': Mayor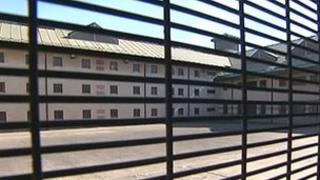 More than 300 sex offenders have been sent to a South Yorkshire jail in a move described by a town mayor as "outrageous".
Sex offenders now make up about a third of the population of Moorland Prison near Doncaster.
The town's elected mayor Peter Davies questioned where inmates would go on their release from the category C jail.
The Ministry of Justice (MoJ) denied that 325 new inmates were sex offenders.
'Closed conditions'
The MoJ refused to say how many of the transferred prisoners had been convicted of sexual offences but said they had committed a "variety of crimes".
Bed capacity has been expanded at the jail so that it can accommodate about 1,000 inmates and the MoJ confirmed that "substantially more bed spaces" were now available.
The MoJ said: "Offenders are held in closed conditions unless a stringent risk assessment, or the Parole Board, determine otherwise."
The majority of offenders that had moved to HMP Moorland were originally from the Yorkshire and Humber region, the MoJ said.
Paul McLennan of Moorland Prison Officers Association said all 325 new inmates were sex offenders.
However, he said the prison would manage the influx of the new prisoners and that two wings had become available following refurbishment after riots in November 2010.
"The extra workload is massive with public protection issues, release on licenses and discharge conditions - but certainly we can cope."
Category C prisons are used to hold offenders who cannot be trusted in an open environment but who are not thought to be at risk of escaping.
Elected mayor Mr Davies, of the English Democrats, called the move "disgraceful and outrageous".
Mr Davies also said he was concerned about sex offenders being released into the community in the future and staying in the Doncaster area.
Andrew Neilson, of charity the Howard League for Penal Reform, said: "There is no evidence that Doncaster is likely to be experiencing a flood of sex offenders out of this prison.
"We have more sex offenders in our prisons than before.
"Prisons have to cope with that and have to house them somewhere."
Moorland Prison is 10 miles from the centre of Doncaster. There are also nearby prisons at Hatfield, Lindholme and Marshgate.