Battle of Britain monument to be built in Doncaster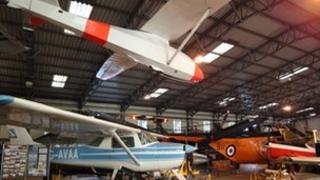 A monument to commemorate air crew from Yorkshire who took part in the Battle of Britain is to be built in Doncaster.
Organised by the Battle of Britain Historical Society, it will be based at the South Yorkshire Aircraft Museum - the former site of WWII RAF Doncaster.
It is the second of five such memorials planned for sites across Britain, with one already in London.
The society said it would feature the names of all 105 Yorkshire air crew who flew in the battle.
Bill Bond, society founder, said: "The fact there were 105 Yorkshire men who flew in the Battle of Britain is an amazing number for one county.
"No other county in the UK had anywhere near that number."
The town has strong links to the battle, with 616 Squadron being based at RAF Doncaster during part of the conflict.
'Bows and arrows'
Mr Bond said a fundraising campaign was now under way to raise the £600,000 needed for the monument, with building work hopefully starting in the new year.
He said building the monument would help educate children on the battle.
"We did a survey and found that 90% of children did not know about the Battle of Britain," he said.
"A lot of them thought it was fought with bows and arrows.
"Had the Battle of Britain been lost, we would have lost the war and those children would probably not be here today."