London 2012: South Yorkshire Olympic torch relay route revealed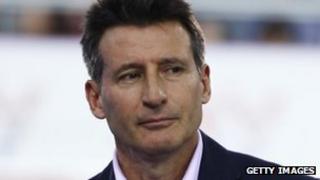 The route which the Olympic torch will follow in South Yorkshire has been revealed, with Games' organiser Lord Sebastian Coe set to be a torchbearer.
The Olympic flame will be in the county on 25 and 26 June.
Places it will be carried past include the Don Valley Stadium, the Magna Science Adventure Centre in Rotherham and Sheffield Children's Hospital.
Lord Coe said he had been nominated to run with the torch in Sheffield, where he was brought up.
'Over the moon'
He revealed the plans when questioned by two pupils from Sheffield during the BBC's School Report News Day.
He said: "I think I'm allowed to say that I probably will be coming back for the Olympic Torch in Sheffield.
"That's where I think I've been nominated to run, obviously for me Sheffield was where all my athletics really happened, so that would be the obvious place to be involved.
"I probably shouldn't have said that.. I'm not sure that's public knowledge but there you go, you've got an exclusive."
Doncaster soldier Ben Parkinson has also been chosen to carry the Olympic flame in South Yorkshire.
Mr Parkinson, who lost his legs in an explosion in Afghanistan in 2006, was told in December he would be a torchbearer after he was nominated by friends.
Other local people chosen to carry the flame include 17-year-old Leah Wren, from Rossington, who was nominated by her younger sister Georgia for her community work.
Leah volunteers as a young leader for the Brownies, is an active member of Doncaster Youth Council and a member of the Doncaster Children's Trust Broad.
The teenager, who works part-time at a clothes store, will carry the Olympic flame in Warmsworth on 26 June - her mother's birthday.
She said she was on her way home from work when she received an email saying she had been selected.
She said: "I was really excited and had to contain my excitement because I was on a train. I was over the moon just to have even been nominated.
"To be one of them is a once-in-a-lifetime opportunity and it's quite exciting."
10-week relay
The Olympic torch will arrive in Lundwood on 25 June before travelling to Sheffield via Barnsley.
After an overnight stay in the city it will be carried through places including Rotherham, Conisbrough and Doncaster before moving into North Lincolnshire.
The Olympic flame arrives in the UK on 18 May and begins its 70-day journey at Land's End on the morning of 19 May.
During the 10-week relay the torch will be carried by 8,000 torchbearers and will travel about 8,000 miles.
Locog say the torch will come within 10 miles of 95% of the population.