Jamie Oliver's Ministry of Food legacy in Rotherham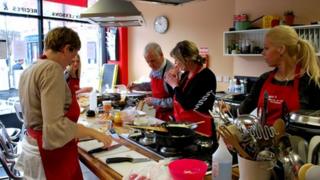 Jamie Oliver has a chequered past in Rotherham.
In 2006, in what was seen as a backlash against his healthy school dinners campaign, parents started taking lunchtime fast food orders to pupils at Rawmarsh Community School.
Pictures of chips being pushed through school railings were shown around the world.
Undaunted, the TV chef set up the Ministry of Food in the town - the aim being to show people how to cook tasty, healthy meals.
He received a mixed reception, from those eager to learn to those unhappy at being portrayed on TV as convenience food-eating northerners who could not cook.
Beyond shepherds pie
A shop on All Saints Square was turned into a social enterprise kitchen where two full-time staff run 10-week courses.
Since the project opened in July 2008 it claims to have shown more than 10,000 people how to cook.
Patrick Tune signed up to the course to expand his cooking repertoire beyond shepherds pie.
The 70-year-old from Wickersley confesses he "doesn't always get it right", but does enjoy cooking.
On week four of the course he and four women from Brinsworth were creating a Keema curry using fresh produce.
"I've told all my mates but they think it's hilarious," said Mr Tune.
"They are out of touch. There's old-age people who are 70 and then there's 70. There's blokes who are ready for dominoes but I'm not."
Encouraged by his newly-acquired skills, Mr Tune said he was working his way through a book of 400 soup recipes.
'Happy students'
Since the dark days of "chip-runs" at Rawmarsh, the school said it had seen the number of students eating dinners increase.
The menu includes oriental beef stir fry and mushroom stroganoff - with not a chip in sight until Friday's offering of breaded fish and chips.
Assistant head teacher Rob Haines said: "We put our catering provision out to tender, obviously with healthy eating high on the criteria.
"Mellors are now our caters. They have pledged to prepare meals from scratch with fresh produce. Students seem much happier with that."
Despite the negative press the school received almost six years ago, Mr Haines said the long-term effect had proven positive.
"It was good that people were enabled to focus on healthy eating, nutrition and expanding horizons. Jamie Oliver, we have to admit, was a catalyst in that.
"Nutritious food does actually help performance, in terms of lessons in the afternoon. If people are eating well, research shows they are more likely to study well."
A year after Oliver's visit to the town, Rotherham Institute for Obesity opened.
It claims to have helped more than 3,500 people lose weight.
The centre focuses on encouraging people to lose weight, rather than preaching, and provides a counselling service and a cook-and-eat class.
And since the Rotherham experiment four more Ministry of Food kitchens have opened, in Leeds, Bradford, Newcastle and Stratford in east London.
The scheme now plans to go international with plans for a kitchen in Australia being announced last week.
Rotherham, meanwhile, has moved a long way from chips through railings.