South Yorkshire Police may keep force helicopter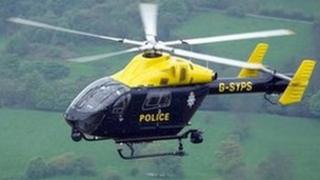 South Yorkshire Police could keep its own helicopter if plans are approved.
Last year it was announced that a National Police Air Service (NPAS) would be introduced, meaning regional forces shared helicopters
The South Yorkshire Police Authority will now look at joining the national service while keeping its own helicopter.
An authority spokesperson said the local service was critical to maintaining response times.
The South Yorkshire police helicopter was introduced in 1997 and flies about 1,200 hours a year at a cost of £1.68m.
Under the proposals, South Yorkshire Police would use its own helicopter during peak times and use the NPAS services for Wakefield, North Derbyshire and Humberside outside those hours.
Sean Wright, deputy chairman for the authority said: "There is a range of options that we can look at, some of which are cheaper than what we are currently paying out and of course some of which are more expensive.
"We've done an analysis of when the helicopter flies and we've identified peak deployment periods.
"We'll be looking at how we can best maintain response times to deliver a police air support service at peak periods."
The government said the introduction of the national service would see the number of police air units across England and Wales cut from 32 to 22.
Mr Wright said: "My own personal preference would be that we retain the helicopter and enjoy the same service that we currently have.
"There is a range of options that the police authority will consider. I'm sure whatever decision we come to it'll be in the best interests of South Yorkshire."
It is expected that the authority will consider a decision on the future of the force's helicopter on Friday.