Project to develop The Moor in Sheffield signed off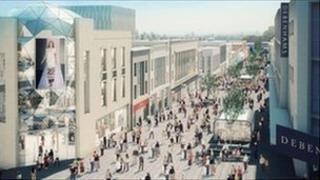 The project to redevelop The Moor shopping street in Sheffield has been signed off by the council.
Sheffield City Council said the project would "breath new life" into the city centre, transforming the area.
Site owner Scottish Widows said the first phase of the development could now start in the early part of summer.
It is expected the development, which will consist of a new indoor market and retail units, will be completed by the end of 2013.
Deputy Labour leader of the council, Bryan Lodge said: "This is something that will breath new life down there and give people a reason to go.
"Cranes will be going up in Sheffield city centre. We will see the development going on.
"This is a positive step. It's difficult times for everybody but there is the positive news there for Sheffield that we are starting to climb out of things.
"It gives a little bit of hope and encouragement to people. We are starting to see things move."
As part of the development Scottish Widows will also refresh the upper area of Moor, building new shops, with the market being built at the lower end.
It is expected that traders from Sheffield's indoor Castle Market in another area of the city will re-locate to The Moor when the project is completed.