Former MP George Galloway to stand in Bradford West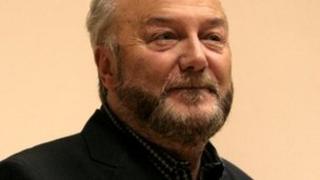 Former MP and Respect Party co-founder George Galloway has confirmed he is to stand in the forthcoming Bradford West by-election.
Mr Galloway, 57, was visiting Bradford when he announced he would be standing for his Respect Party.
The by-election, triggered by the resignation of Labour MP Marsha Singh due to ill health, will take place on 29 March.
UKIP has announced Sonja McNally will stand in the poll.
Mr Galloway was a Labour MP in Glasgow from 1987 but was expelled from the party in 2003 following criticism of the Iraq war.
He won the Bethnal Green and Bow seat for Respect in the 2005 general election but left the Commons after defeat in 2010.
Ms McNally joined UKIP at the beginning of the year having previously stood as a Green candidate.