'Rare' Battle of Britain aircraft on show in Doncaster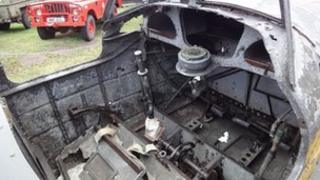 A museum in Doncaster is displaying the remnants of what it claims is a rare Battle of Britain aircraft.
The South Yorkshire Aircraft Museum said it had acquired the fuselage of a Blackburn B.2 after it was discovered in a tree in a scrap yard.
Curators believe the plane, built and flown in Yorkshire, is one of only two still in existence.
Coordinator James Stables said the biplane, withdrawn from service in 1942, had its original paintwork.
Mr Staples said: "It's actually trained a third of pilots who flew in the Battle of Britain and was produced in limited numbers.
"When it was withdrawn from service it was given to air cadet units, and as they disposed of it, it ended up in a scrap yard.
"It sat up in a tree for 37 years and it was rescued."
The museum said it was now looking to restore the aircraft.