Fencing to segregate fans outside Hillsborough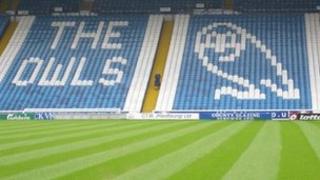 A temporary 7ft-high barrier is to be used outside Hillsborough at the end of Sheffield's football derby on Sunday to keep rival fans apart.
South Yorkshire Police said the barrier would be installed during the game between Sheffield Wednesday and Sheffield United which kicks off at 13:00 GMT.
Supt Simon Verall said it would be used to ensure crowd safety.
The force tested the barrier in January during an FA cup game.
Mr Verall added: "We're using the barriers to keep the crowd as safe as we possibly can.
"They won't be there before the game as people as walk in, but whilst the game is being played."
When questioned about the sensitivity over the issue of barriers being installed, Mr Verall said: "It's a bit unfortunate using this term barriers. Ultimately they are not inside the ground which would obviously be highly emotive at Hillsborough and we would never seek to do that.
"It's effectively a fence. It's not going to stop anyone walking out of the ground it is purely to keep the fans segregated for that little bit longer, like the same way they are in the ground."
South Yorkshire Police said between 250 and 400 officers would be on duty when about 37,000 fans visit the ground for the local derby.
Mr Verall said: "Through pro-active police work, and by clamping down on troublemakers, violence and disorder levels have decreased at local football matches.
"There are currently 121 people who are banned from attending the game on Sunday and future matches."