South Yorkshire Police Authority continues helicopter cut fight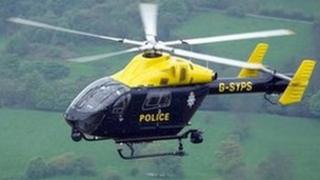 South Yorkshire Police Authority has sought legal advice to see if it can fight plans to scrap the county's helicopter.
The government want to introduce a National Police Air Service (NPAS) which would mean regional forces sharing helicopters.
The authority fears police response times would rise under the proposals.
The government said it was confident it could reach an agreement with South Yorkshire.
The police authority said while it was not opposed to the NPAS being introduced, it had concerns about the impact on response times in South Yorkshire.
It said it feared the loss of the helicopter would make it difficult to maintain an effective and resilient air support for the county.
The government claimed that the current response rate, which sees 97% of the population receive air support in 20 minutes, would not be affected.
The introduction of the national service would see the number of police air units across England and Wales cut from 32 to 22.
The Sheffield helicopter base would go and the force would share helicopters based in Wakefield, North Derbyshire and Humberside.
The change is expected to save £15m a year nationally.
Police Minister Nick Herbert said he would use his statutory powers to make police forces work together on the national helicopter service.
Legal advice has now been sought by South Yorkshire Police Authority to examine what, if any, options it has to challenge that.
Hampshire Chief Constable Alex Marshall, Association of Chief Police Officers lead for the National Police Air Service, said: "We are still in discussion with South Yorkshire Police Authority and are confident that we can reach an agreement and outcome that we are all happy with."
The police authority will consider the legal advice it has asked for at a meeting on 9 March.