Doncaster mayor's question time attracts one person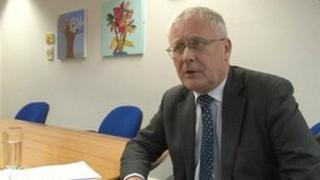 The Mayor of Doncaster has said he will continue to hold public question time events despite only one person turning up to the first one.
Peter Davies, of the English Democrats, has allocated 20 minutes before council cabinet meetings for public questions.
He said it was vital people could question him in a public forum.
A referendum will be held later this year over whether Doncaster retains its elected mayor or switches to having a council leader.
Doug Wright, from Cantley, asked the mayor whether the town had enough volunteers to run the libraries when they leave council control at the end of March.
Mr Davies replied that he would look into the matter.
Mr Wright said he was surprised that he was the only person at the event on Wednesday.
He said: "I just came to ask the question. It is absolutely essential for anything to do with the council that people come along."
The mayor said he had hoped for a higher turnout.
Mr Davies added: "I think it is vitally important that democracy includes the right of people to question people like me in a public place."