Sheffield Cathedral Occupy camp legal fees hit £10,000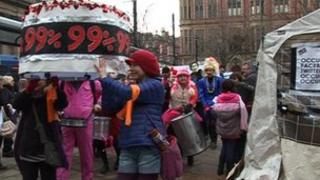 A South Yorkshire cathedral will not seek legal costs from the Occupy camp that was at the building for 99 days.
Sheffield Cathedral's Dean, the Very Reverend Peter Bradley said its legal costs were about £10,000 and it was time the campers had "moved on".
Protesters left the camp on Saturday, before a deadline set by the cathedral, and moved to a nearby building.
Deacon Dave, of Occupy Sheffield, said the camp and the cathedral could have worked "closer together".
Dean Bradley said the protesters departure was a "very reasonable" outcome and the presence of the camp had been interfering with some of the work of the cathedral.
He said the protest had had a "very considerable" financial impact for the cathedral in lost opportunities, legal and other costs.
Deacon Dave said: "We've learnt a huge amount and have gathered the community around us."
He added that more than 2,000 people had signed the camp's petition.
The camp was set up in November when about 50 people protesting against "poverty and capitalism" pitched tents.
An eviction hearing was due to take place on 21 February if protesters had remained on the site.
Occupy Sheffield said it had moved to the former Salvation Army building on Cross Burgess Street.