Sheffield Cathedral Occupy protesters leave site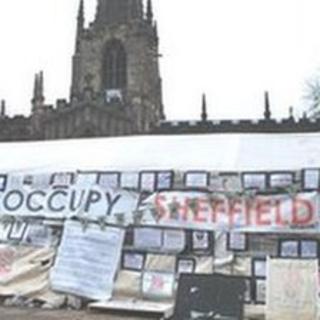 Protesters at the Occupy camp near Sheffield Cathedral have left the site and moved to a nearby building.
The camp was set up on 5 November when about 50 people protesting against "poverty and capitalism" pitched tents.
An eviction hearing was due to take place on 21 February if protesters remained on the site.
Sheffield Cathedral had set them a deadline of 16:00 GMT on Monday to leave.
A spokesman for the cathedral had previously said: "We have sympathies with many of the issues the Occupy movement raise and will continue to engage in active discussions."
Occupy Sheffield said they had moved to the former Salvation Army building on Cross Burgess Street, close to the camp.
One of the campaigners, Deacon Dave, said the camp had moved on Saturday afternoon with only a large tent remaining to be dismantled.
He said: "We moved all our equipment into the Citadel of Hope.
"We'll still be having assemblies on Monday, Wednesday and Fridays and we're also looking at having pop-up camps and other ways to achieve our aims.
"We want to engage with the public, but it's not terribly effective on a freezing pavement."
The camp had recently been reduced to about 10 tents.
Cathedral officials had claimed the camp was causing disruption.