Sheffield Cathedral Occupy protesters to leave site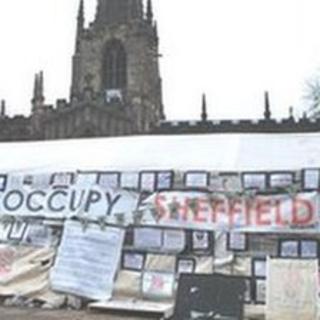 Protesters at the Occupy camp by Sheffield Cathedral have said they plan to leave the site on Saturday.
The camp was set up on 5 November, when about 50 people protesting against "poverty and capitalism" pitched tents.
An eviction trial is due to take place on 21 February, if protesters remain on the site.
Sheffield Cathedral has set them a deadline of 16:00 GMT on Monday to leave.
A spokesperson for the cathedral said: "We do not want past incidents to undermine the positive nature of current discussions or to affect what we are all working towards - a peaceful and respectful conclusion to the protest on the cathedral forecourt.
"We have sympathies with many of the issues the Occupy movement raise and will continue to engage in active discussions."
'Lovers tiff'
Occupy Sheffield said they had located another site in the city, which they hope to turn into a cafe and community space.
One of the protesters, Moose, said they planned on holding a parade on Friday afternoon, starting at the site.
He said: "We're moving forward, we're making a tactical withdrawal, and we're having fun while we're doing it.
"The lovers tiff between the cathedral and ourselves will be resolved in a beautiful way."
The camp has recently downgraded to about 10 tents.
Cathedral officials had claimed the camp was causing day-to-day disruption.