Winter survival packs given to the vulnerable in Barnsley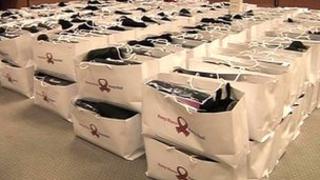 Vulnerable people in Barnsley are being given winter survival kits in a bid to keep them warm during the cold snap.
More than 2,000 packs, which include a blanket, hot water bottles, packets of soup and a thermometer, are being given to vulnerable families and the elderly.
They are being given out by volunteers after Barnsley Council received £150,000 of funding from the Department of Health.
It is hoped the pilot scheme will be rolled out fully next year.
Barnsley Council said the money had come from central government with the aim of reducing hospital admissions and deaths during extreme weather.
The packs also contain a hat, gloves, thermal socks, shoe grips for walking on snow and ice and an alarm to make people aware when a room drops below a certain temperature.
Dr Renu Bindra, who is involved in the project, said only those identified as vulnerable would receive the kits.
"This year we're limited on what we can give out this time, but it does look from the initial results that it's a popular and useful scheme," he said.
"We're trying to help those who have been identified most in need and do everything we can to give them the same health experience and same chances as everybody else in Barnsley."