Martin Jennings to create Sheffield Women of Steel memorial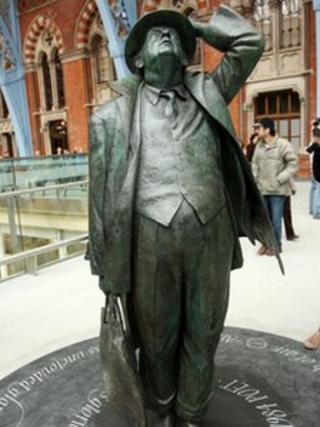 An artist has been chosen to create a sculpture to commemorate the women employed in Sheffield's steel works during both world wars.
Sculptor Martin Jennings created the bronze sculpture of former Poet Laureate John Betjeman at St Pancras station in central London.
Jennings said it was important to pay tribute to the women's work.
He said: "It's been 67 years since the end of the war so it's high time that their contribution was remembered."
"It's not only a part of local history but I see this as a national monument.
"It was a war of national salvation and we depended on what these women did and it's extremely important to express our national thanks for the pivotal people in a crucial time in our history."
It is hoped the sculpture will be located near a bronze plaque which Sheffield City Council unveiled last year at Barker's Pool in the city centre.
"Until the site has been specified, I cannot work out the scale of it," Jennings said.
"Once I've worked out the scale I will narrow in on what we will do."
The city council has awarded the project £28,000, although a further £120,000 needs to be raised.