Judgement reserved in Doncaster Twitter airport threat appeal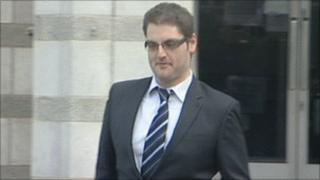 Judgement has been reserved over whether to quash the conviction of a man for a Twitter message threatening to blow up a South Yorkshire airport.
Paul Chambers, 27, from Doncaster, who now lives in Northern Ireland, was convicted in May for sending a "menacing electronic communication".
An appeal was dismissed by a judge which was challenged at the High Court.
Chambers said he thought no-one would ever have taken seriously his joking threat against Robin Hood Airport.
The accountant said he sent the tweet to his 600 followers in a moment of frustration after snow forced the closure of the airport in January 2010.
Twitter supporters
But he was convicted at Doncaster Magistrates' Court of sending "a message of a menacing character", contrary to provisions of the 2003 Communications Act, fined £385 and ordered to pay £600 costs.
On Wednesday he asked two High Court judges to overturn a Doncaster Crown Court decision in November 2010 upholding his conviction and sentence - a decision which pushed the costs order against him up to £2,600.
Among his many supporters are broadcasters Charlie Brooker and Stephen Fry, both high-profile twitter users.
The message Chambers tweeted read: "Robin Hood Airport is closed. You've got a week and a bit... otherwise I'm blowing the airport sky high!"
Crown Court Judge Jacqueline Davies, sitting with two magistrates, had said the electronic communication was "clearly menacing" and airport staff were sufficiently concerned to report it.
'I am Spartacus!' campaign
But at London's High Court, Ben Emmerson QC, appearing for Chambers, argued the Crown Court had erred in law - and in common sense.
Mr Emmerson suggested it was hardly likely anyone planning to blow up an airport would post their intentions on Twitter.
He told Lord Justice Gross and Mr Justice Irwin that conviction and sentence were normally meant to have a deterrent effect but in the Chambers' case they had the opposite effect.
His conviction caused resentment and triggered an "I am Spartacus!" campaign in which 4,000 people tweeted the Chambers message across Twitter - "none of whom were arrested", said Mr Emmerson.
He added: "One has to inject common sense to avoid the law ending up looking silly."
He told the judges the questions for them were "whether this prosecution-conviction-sentence was a steam roller to crack a very small nut and whether it was a disproportionate response".
Among those sitting at the back of the court supporting Chambers were Pub Landlord comic Al Murray and Father Ted writer Graham Linehan.
Mr Murray, who recently hosted a special benefit performance for Chambers, said outside court: "This situation is Monty Python. It is absurd, bonkers. It means we cannot post what we want on Twitter, or say what we want - that is incredible to me."
Mr Linehan said the case had created confusion about the law.
He said: "There are thousands of messages every day that could be mistaken for threats."