Ex-chief constable Hughes defends commissioner bid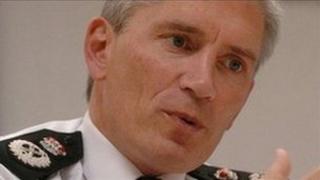 The former chief constable of South Yorkshire Police has defended his decision to seek a nomination to become the county's elected police and crime commissioner, despite previously calling the role a "mistake".
Med Hughes said his earlier objections motivated him to consider the role.
He will be seeking a Labour Party nomination for the role on 17 February.
"I was approached and I thought, 'It does need somebody who can reach out'," Mr Hughes said.
"I do believe that I have the balance to actually represent South Yorkshire on the national stage," he said.
Mr Hughes said last year he thought elected police and crime commissioners would "reduce democracy" because one person could not "encapsulate all the range of political opinions" across South Yorkshire.
In an interview on Tuesday, he said: "I was quite straightforward in saying that I didn't think it was a particularly good system but once the government, who have a mandate to do this, have brought it in then I think we should do our best to make the system work for the people of South Yorkshire.
"I don't think it's hypocritical to make the best of a system that is definitely being brought in.
'Represent the people'
"I thought it does need somebody who can reach out across boundaries.
"It needs someone who can live by the values and the ideals of the party nomination and I'm very proud to be a member of the Labour Party," said Mr Hughes.
He said if elected by members of the public in November he would "deal with some of the real issues" and would hold policing to account, as well as building partnerships with other services.
Mr Hughes added: "I'll represent the people. I'm going to put a lot of effort into finding out really what the public think about policing, right down to a very, very local level."