Museums Sheffield to lose 45 jobs throughout city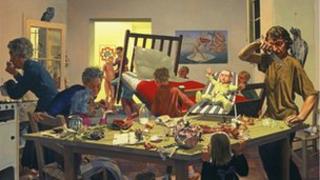 Up to 45 jobs are to go at Sheffield's museums over the coming months, Museums Sheffield has said.
Chief executive Nick Dodd said the cuts would mean the latest exhibition, which opens on Thursday, would be the last of its kind.
The organisation currently employs 107 staff. Mr Dodd said all savings must be made by 31 March.
It is thought that the redundancies will affect every part of the organisation.
"Everybody is at risk, including me," said Mr Dodd. "We all work together and it is absolutely appropriate that everybody stands side by side in this."
He said staff, who had already taken pay cuts and had their hours changed, were "deeply, deeply shocked and upset" by the news.
The redundancies would also have a "very serious effect" on the city's cultural offering, he said.
"The next exhibition, The Family in British Art, is of the highest quality - exceptional, fantastic, but it will be the last show of its type that we will ever be able to do because we won't have the people to do it any more."
An appeal has been launched by staff and the public, and the Museums Sheffield website explains why the Arts Council funding was turned down.