Mayor Peter Davies and Doncaster Council set date for elected mayor referendum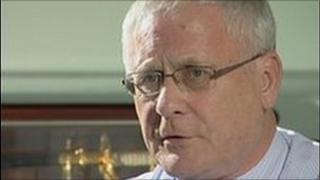 A date has been set for a referendum on whether to keep an elected mayor in a South Yorkshire town.
Doncaster councillors said a referendum on the issue would be held on 3 May.
The alternative model, which is used by most councils in the UK, is to have a council leader and a cabinet of councillors.
Doncaster has had an elected mayor since 2002. Peter Davies of the English Democrats has held the post since June 2009.
The elected mayor system in Doncaster has been the subject of considerable debate since it began.
The decision to have a referendum on the issue was taken after a three-month public consultation on the issue in Autumn 2011.
The referendum on 3 May is to be held alongside local council elections, and Doncaster Council estimates it will cost approximately £80,000.
Out of 1,225 replies, 90% voted in favour of the referendum.
If the system were to be changed to a council leader and cabinet model, the newly constituted organisation would take effect from 5 May 2013.
The leader of the council would be elected by, and be one of, the councillors.
They would hold the post for up to four years and could be removed if they lost the support of the majority of councillors.
On the same day as the referendum, other UK councils - including Sheffield, Bradford, Leeds and Wakefield - will hold polls on whether to switch to a mayoral system.
The elections for mayors would then happen on 15 November.
Salford has already opted to have a vote on whether to switch to a mayoral system.
Mayor Davies, who was elected in 2009, said: "I think mayoral governance has done Doncaster proud."