Sheffield Cathedral Occupy eviction trial set for 21 February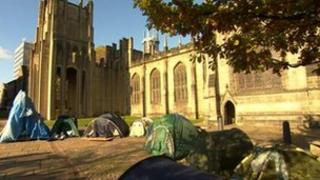 A legal attempt to immediately remove protesters from the Occupy Sheffield site by the city's cathedral officials has been put on hold.
Sheffield's Dean said he had been left with "no choice" but to begin legal action to move on protesters camping on the cathedral's grounds.
At Sheffield County Court cathedral officials heard the case would now be dealt with on 21 February.
The cathedral wants the camp disbanding and is trying to claim costs.
About 50 members of Occupy Sheffield, who are protesting against "poverty and capitalism", pitched tents outside the cathedral on 5 November.
The cathedral officials had claimed the camp was causing day-to-day disruption.
And they had said they were hoping for a "swift eviction".
Nicole, a spokeswoman for the Sheffield Occupy camp, said cathedral officials had named 14 people at the camp they were trying to claim £8,000 in costs against.