South Yorkshire police chairman criticises helicopter cut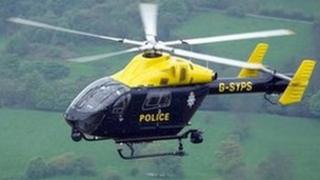 The head of South Yorkshire Police Authority has criticised the government's decision to remove the force's helicopter.
The authority's chairman, Charles Perryman, said the policing minister was using "a heavy hand" to impose a "substantially less good service".
The helicopter will go as part of plans to introduce a national air service.
Minister Nick Herbert said he would use his statutory powers to enforce the change.
The introduction of the National Police Air Service (NPAS) will lead to the number of police air units across England and Wales being cut from 32 to 22, with a corresponding reduction in the number of bases.
The change is expected to save £15m per year.
The government claimed that the current response rate, which sees 97% of the population receive air support in 20 minutes, would not be affected.
South Yorkshire Police, which will have to use helicopters based in Derbyshire, West Yorkshire and Humberside, was the only force to formally object to the proposals.
Mr Perryman said: "We want a police helicopter to be based in South Yorkshire to maintain an effective and resilient air support for the county.
"We don't disagree with the NPAS proposals, in principle, but we require reassurances from government that the national scheme will not reduce services to the county.
"This is not marginal. There is a substantial difference in what we are currently delivering with the helicopter and what we could do if we went into the national service."
The government claim the NPAS will provide forces with access to helicopters 24 hours a day, 365 days year, while an individual force's helicopter can be end up being out of use for weeks for repairs.
A message posted by the helicopter crew on the air unit's Twitter page said: "Thank you all for the support you are showing and giving us, it means a great deal to all the staff that work here."