South Yorkshire Police warn 4x4 owners as thefts rise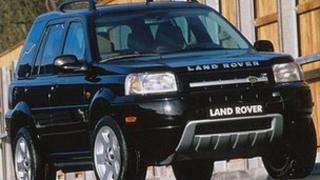 Owners of four-wheel drive vehicles in South Yorkshire are being warned by police to make sure their cars are properly secured after a three-fold rise in Land Rover thefts in the city.
South Yorkshire Police said 45 Land Rovers were stolen between July and December 2011, compared with 16 in the same period in 2010.
The vehicles were targeted as they were simple to strip for parts, police said.
Police advised owners to fit tracking devices and get parts security marked.
'Shipped anywhere'
Det Ch Insp Zaf Ali, from South Yorkshire Police, said there was a "ready market" for cheap vehicle parts.
"They can be shipped anywhere in the UK or even across the world," he said.
Det Ch Insp Ali said police in South Yorkshire were working hard to tackle the problem and were working with vehicle manufacturers and retailers.
Regular patrols were also being carried out in "key areas" of the city, he said.
"However, we do need the public to help us to tackle this issue by being vigilant, following crime prevention advice and reporting any suspicious activity to the police."