Sheffield's Kelham Island 'may get water wheel'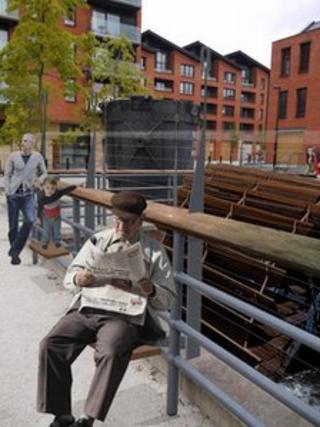 A water wheel which could generate electricity for 20 homes is planned for an industrial part of Sheffield.
Sheffield Renewables, which proposed the wheel, said it would be on the site of "one of the earliest uses of water power in Sheffield".
Sheffield Council said it was keen to promote renewable energy developments and a water wheel was "historically appropriate" for Kelham Island.
Water from Sheffield's River Don will be diverted to the 4.5m-wide wheel.
It will re-enter the river 650m downstream at Corporation Street bridges, according to the Sheffield Council planning report.
The wheel would be built from timber slats on a galvanised steel frame and would power a modern Zuppinger turbine, with a hydraulic pump in a small soundproofed enclosure.
Sheffield Renewables, which is funded by the Co-operative Group and largely run by volunteers, said two tonnes of water would flow through the wheel every second.
It said this would generate about 75,000 kWh of electricity and save 40 tonnes of CO2 per year.
Rob Pilling, of Sheffield Renewables, said the new wheel should be viewed as an attractive feature.
Plans include a public viewing platform and timber bench.
'Reviving heritage'
"Kelham Island Hydro will bring an iconic renewable energy scheme to this popular site in the heart of the city," said Mr Pilling.
"As well as generating clean energy, the wheel will be an inspiring attraction, reviving part of Sheffield's industrial heritage and stimulating interest in renewable energy."
It is hoped that the new wheel will be on site by 2014.
The wheel will be sited between Kelham Island Museum and the Kelham Island Brewery.
It is a collaboration between Sheffield Council, Sheffield Renewables and Sheffield Industrial Museums Trust.
It is thought that a water wheel was first used on the site in the Middle Ages and the last water wheel was used there in 1947.
Another water power scheme by Sheffield Renewables, which uses an archimedes screw, is hoped to be operational at Jordan Dam near Meadowhall by 2013.
The Jordan Dam Hydro scheme will be part-funded through community shares.