Sheffield plan switch to fortnightly bin collections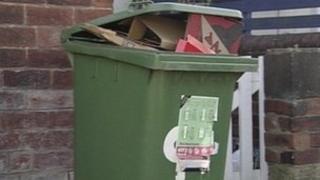 Sheffield City Council is proposing to switch to fortnightly bin collections in an attempt to save £2.4m a year from the waste disposal budget.
The Labour-controlled cabinet approved the proposal and also voted to end the free collection of garden waste.
The council said it needs to make budget savings of nearly £220m over the next four years, following a cut in central government funding.
The GMB union has condemned the move, claiming that 40 jobs would be lost.
Leigh Bramall, cabinet member for for environment and transport, said: "We don't want to do it.
"But, if we don't take this cut in the waste service then it will mean we will have to make even deeper cuts to numerous other services that are already facing substantial cuts."
'Fly-tipping costs'
Pete Davies from the GMB union said: "We're estimating up to 10 trucks and obviously the drivers and the crews will go.
"I'm not convinced they are going to make the savings that they are projecting. The waste isn't going to go away.
"I think if we are not careful fly-tipping costs are going to go through the roof."
Mr Bramall said he had written to Communities Secretary Eric Pickles to try to access the government's recently announced £250m fund to enable local authorities to maintain weekly collections.
Mr Bramall added: "They basically got back to us and refused to commit a single penny. We're still awaiting a response from them, but it doesn't look good because we are eight weeks from the budget."
The Department for Communities and Local Government said Mr Bramall's claim was untrue.
A spokeswoman said they had responded to Mr Bramall's letter at the end of November and that Sheffield Council's details had been added to a database of other local authorities who had expressed an interest in the scheme.