Sheffield Cathedral starts legal action to move Occupy camp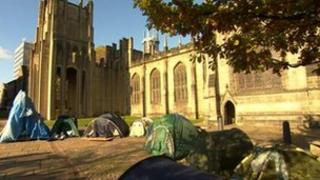 Sheffield's Dean has said he has been left with "no choice" but to begin legal action to move on protesters camping on the cathedral's grounds.
About 50 members of Occupy Sheffield, who are protesting against "poverty and capitalism", pitched tents outside the cathedral on 5 November.
The Very Reverend Peter Bradley said legal action was been taken to maintain the cathedral's redevelopment plans.
One protester said the camp was willing to reach a compromise.
Dean Bradley said a date would now be set by the High Court for the case to be heard.
He said: "No-one goes to court happy.
"We are still really hopeful that we can get a peaceful resolution to everything but the conversation we've had so far hasn't been enough to encourage the protesters to move on."
He added: "The churchyard has been owned by Sheffield Cathedral for many hundred of years.
"We are liable for all activity on the land and it is becoming increasingly difficult to keep it safe and well managed and open for everyone to enjoy.
"We have continuing concerns about safety. The camp has become a huge drain on our limited resources.
"We are currently unable to deliver the whole of our projected activities and our important day to day ministry is suffering."
An Occupy Sheffield protester said: "There's no need to go through all this legal action, let's come to a compromise.
"We're willing to downsize the camp and move it to the left-hand side. We're willing to help them in any shape or form and they are not willing to help us and they are supposed to be Christians."