Firefighters in Rotherham tackle factory blaze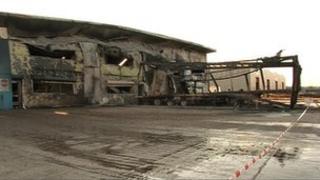 Up to 60 firefighters were called to tackle a blaze which destroyed an envelope factory in South Yorkshire.
Crews were called at 22:40 GMT on Tuesday to the Envelope Master plant in Waddington Way, Aldwarke, Rotherham.
At its peak, about 60 firefighters attended the blaze and nine night shift workers at the premises were evacuated for their safety.
The fire service said an investigation into the cause of the blaze would be carried out.
In a statement on its website, the company said it was "extremely saddened".
It added: "We are very grateful that our safety procedures allowed all our employees to leave safely and unharmed with no injuries incurred.
"At this moment in time we have no idea as to the cause of the fire."