Sheffield Occupy camp facing legal threat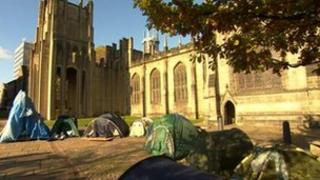 Sheffield Cathedral officials have called on protesters camping on its grounds to leave within a week or face possible legal action to evict them.
The cathedral said the action was interfering with its redevelopment programme.
Members of Occupy Sheffield, who are protesting against "poverty and capitalism", pitched tents outside the cathedral on 5 November.
One protestor said they would "keep a visible presence on the street".
In a statement on the cathedral's website, The Dean of Sheffield, the Very Reverend Peter Bradley, said that the church had "acted generously towards the protest, seeking to hear, along with ecumenical partners, the issues which are being raised".
'Taking tents down'
He went on to say that, despite the support, "the presence of Occupy Sheffield in the churchyard has caused disruption to the cathedral's work.
"Services have been interrupted, staff time has been taken up with ensuring public safety on the forecourt, bookings for school visits and for our conference facilities have declined.
"As a small organization which receives no government funding and which supports its own charitable work through the Cathedral Archer Project, Sheffield Cathedral cannot afford this continuing drain on its resources."
Occupy Sheffield said it had taken over a former Salvation Army Citadel building on Cross Burgess Street, but still planned to keep its cathedral camp going.
One of the protesters, Deacon Dan, said: "We're making moves. We are taking some tents down, we're rearranging the camp. We have the space at the citadel now, we're doing lots of work on there.
"We will be refocusing. We are hoping to have big public meetings at the citadel. But we also need to keep a visible presence on the street, so that we can engage with the public in a better way."