Sheffield recycling centre staff call off strike action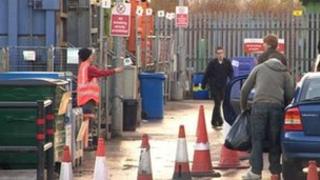 Workers at recycling centres owned by Sheffield City Council have called off strike action planned for after Christmas.
Staff who work for a sub-contractor fear a third of them will lose their jobs if opening hours are cut to save money.
The council and sub-contractor Veolia made a revised offer to GMB officials on Thursday.
Staff have accepted a further three months of negotiations on the changes.
Employees had initially planned to walk out indefinitely from 27 December.
Sheffield City Council wants to cut the opening hours at the sites to save £500,000.
No-one from either Sheffield City Council or Veolia was available for comment.