Sheffield University drinks event 'irresponsible', say police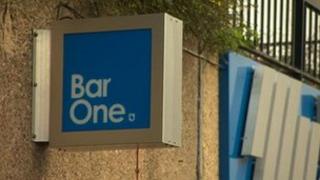 Police have called for a review of the licence of a university bar after an "irresponsible" drinks promotion.
The event, at the University of Sheffield's Bar One, saw some drinks sold at reduced prices and promotional offers on bottles.
A student suffered head injuries and a punctured lung when she was hit by a bus after leaving the event.
The university said safety was its "prime concern". It has stopped similar events while a review takes place.
In a written application to the city council, South Yorkshire Police said it had outlined concerns about the promotions, which it called "irresponsible".
Event suspended
The force said: "A range of options is open to the city council, but if a review is held then South Yorkshire Police will ask that all cut-price drinks promotions at the premises be suspended until after a full licensing review at a later time."
The Union Christmas Day event ran from 1000 GMT on Wednesday until the early hours of Thursday.
Supt Martin Hemingway said concerns were raised after the road accident.
He said: "Police are not trying to clamp down on student drinking, but need to have a serious look at bars encouraging people to drink excessively from early in the morning.
"Clearly, people need to take responsibility for their own behaviour, but licensees and bar staff also have a duty of care towards their patrons."
In a statement, the university said the wellbeing of students was its "prime concern" and its thoughts were with the injured student's family.
It said: "The students' union has run the Christmas Day event for 14 years without incident.
"The students' union not only met its legal requirements for the event but substantially exceeded them.
"The university has taken the decision to suspend this event until a thorough review has taken place and will cooperate in full with the police and the licensing authority in relation to any review or further recommendations they may have."