Nick Park creates first music video for Native and the Name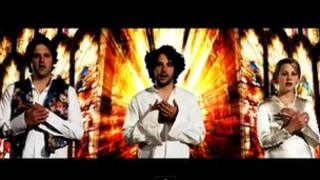 Animator Nick Park said he was "nervous" about creating his first music video for an unsigned band.
The animator best known for Wallace and Gromit created a video for Sheffield band Native and the Name.
Mr Park, who is a family friend to the three members, made the video for Plain Song written by Joe Rose.
Last year Mr Park chose the song when he appeared on Radio 4's Desert Island Discs. Mr Rose said Park had made his own interpretation of the song.
Mr Rose said he wrote the song whilst on holiday in Rome from observations he had made whilst in a cathedral.
'His film - our song'
"From start to finish it's a Nick Park film.
"He's a genius. It's his vision. His film. Our song.
"He was very sensitive about knowing what the song was about but not wanting to be too obvious and being too prescriptive."
Mr Park who studied Fine Art at Sheffield Hallam University told the BBC he visited the city frequently: "I have lovely memories of living in Sheffield.
"I know the band's parents really well, from my time in Sheffield.
"I've been up there a lot this year, making the video on the streets of Sheffield."
Park who produced the video to give the band a wider audience said he had created the video on a "shoe-string".
"I've seen them emerge and I'm astounded really," said Mr Park.
"I was very nervous to not put any strange or different slant on it that people could perceive it wrong.
"I wanted to be complimentary to it. Not trying to distract with clever animation and stuff.
Park said he would not be working on more music videos in the future