Paratrooper Ben Parkinson told Olympic torch news by friends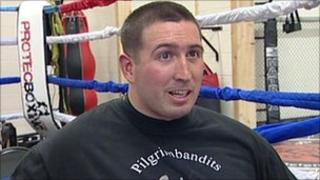 An injured soldier from Doncaster has been told by friends he will be an Olympic torchbearer after failing to receive an official letter.
Lance Bombardier Ben Parkinson who lost his legs in an explosion in Afghanistan in 2006 was nominated by friends.
The 27-year-old's mother, Diane Dernie, said her family had presumed he had not been chosen when the official announcements were made last week.
Ms Dernie said she was "thrilled and proud" to hear her son had been chosen.
A spokesperson said the London Organising Committee of the Olympic Games was delighted to confirm Ben Parkinson had an offer of a Torchbearer place and was not sure why he had not received the offer email.
"We will contact Ben to ensure that he has all the information he needs to secure his place and look forward to working with him next year."
Ms Dernie said: "We knew Ben had been nominated and that he'd got through to the final stage of selection.
"We were contacted on Saturday to say that all the people who had nominated him had got their emails to say 'Congratulations your candidate has got through'."
'New target'
Mr Parkinson, who served with the 7 Para Royal Horse Artillery, also suffered brain damage and a broken back when his Land Rover was ripped apart by an anti-tank mine. He is thought to be the most seriously injured British serviceman to survive his wounds.
His mother said the news was a fresh motivation for the new year for her son, who is working towards walking on artificial legs without the aid of crutches.
Ms Dernie said her son's solicitor, Andrew Buckham from Irwin Mitchell, who fought the judicial review for a compensation scheme, was among many people who had nominated him.
She said: "He wants to do it for everybody who has helped him and he wants to do it to show everybody who said he would never walk.
"It's been a real spur for him."
Mr Parkinson, who is currently in Colorado on the American Wounded Warrior Project, received a text from his mother with the news. Ms Dernie said he was "absolutely thrilled".