Royston fire station closure plans spark public anger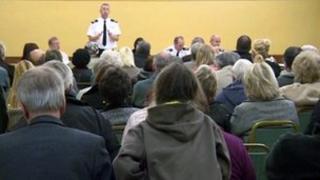 Residents in a South Yorkshire village have voiced their anger at a public meeting over plans to close a local fire station.
South Yorkshire Fire and Rescue Service wants to close the retained fire station in Royston as part of its plans to save £10m over the next four years.
Chief fire officer James Courtney said the service "cannot afford the over-provision" of the Royston site.
Many of the 70 residents at the meeting said the move would compromise safety.
Under the plans, fire stations in Darnall, Mansfield Road, and the part-time station at Mosborough would be replaced with two new stations at Sheffield Parkway and Birley.
The reduction of 68 full-time and 32 retained firefighters would make an overall saving of £2.25m a year. An additional 40 full-time firefighter posts would be shed from internal staffing changes, making an overall saving for the service of £4m a year.
'Not acceptable'
One resident who attended the meeting said: "I don't think they care. They're supposed to be a fire brigade and they look to me like they've lost it all, they're not interested, all they want to do is cut money."
Another resident said: "I think they do a brilliant job, absolutely amazing. It's just the fact that it's on the doorstep - if ever I had a fire [Royston station] is there and I know that I'm safe."
Local councillor Graham Kyte said the proposals were "unacceptable" and hoped "the fire authority will take notice" of responses from the public consultation.
Chief fire officer James Courtney said: "Our statistics tells us that [fire crews at Cudworth station] can be in Royston's area more quickly than the local retained appliance."
Howver, John Blackburn, a retained firefighter at Royston station, said: "If Royston wasn't here then it would've taken Cudworth station seven minutes and people would be waiting a further seven minutes.
"I love the job, I'd do it for free," he added. "We're really passionate about it, that's why somebody got a bit irate. We just want to give something back to the community that's all we do it for."