Sheffield Cathedral delays bid for lottery money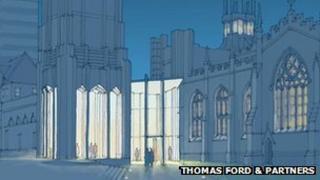 Sheffield Cathedral has delayed submitting a bid for almost £1m to improve access to the Grade I listed building.
The church had planned to submit a bid in December but said there were planning concerns about the design.
The Dean of Sheffield said they would now amend plans for the new entrance and submit their bid in March.
An initial grant of £31,900 from the Heritage Lottery Fund (HLF) was awarded to help develop the bid.
The design for the new entrance has to go through the Church of England planning system before any normal planning application can be made.
Dean of Sheffield, the Very Reverend Peter Bradley, said concerns had been raised over the planned new entrance.
The design is aimed at improving the cathedrals "access, education and heritage" as part of the bid to update the building, which dates to 1430.
The funding would be used to provide level access to the existing entrance on Church Street.