Sheffield students end protest after injunction pulled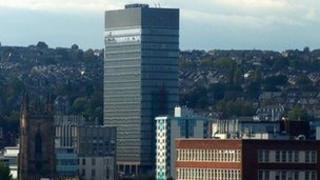 A sit-in protest by students at the University of Sheffield has ended.
More than a dozen demonstrators occupied a large lecture theatre at the Arts Tower a week ago in support of strike action by public sector workers.
The occupation ended after the university withdrew court action which students said would ban all protests for 12 months.
The university said it withdrew the action after listening to the concerns of students about free speech.
A university spokesman said it hoped lectures in the Arts Tower could get back to normal as soon as possible.
The spokesman said: "The university took on board the concerns of representatives from the students' union regarding the wording in the injunction application which was interpreted as preventing protests across the whole of campus unless permission was granted by the university.
Prosecution fear
"The university fully supports freedom of speech and the right of students to express their views peacefully and within the law and certainly would not wish in any way to constrain legitimate debate, discussion and protest which does not hamper the educational activities of other students and staff.
"A Possession Order was obtained today which entitles the university to obtain possession of any university buildings which are occupied for the purposes of a sit-in protest or any other unauthorised occupation. As a result, the injunction has now been withdrawn."
In a statement the Sheffield Students' Union thanked the university for negotiating a "suitable outcome".
It said: "Many students' union societies and committees have contacted us in the last 24 hours to express their fear that they would not be able to hold future protests, gather petitions or even run awareness-raising campaigns without fear of being prosecuted.
"Whilst we recognise the original aim of the university was to limit occupations, the wording of the initial injunction and subsequent copies had left students fearing that their right to protest was being infringed."