Sheffield Council spends £21,000 on plea for savings ideas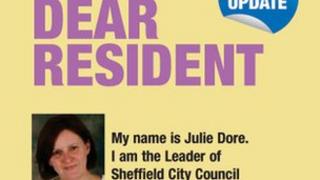 Sheffield Council spent £21,000 on leaflets asking members of the public for ideas about how it can save money.
The leaflet will be sent to every home in the city, asking for ways on how to cut £57m from the 2012-13 budget.
Leader of the Labour-run council, Julie Dore, said each leaflet had cost 9p to produce, which was "value for money".
Opposition Liberal Democrat councillors called it a "glorified PR stunt" and said the money should have gone towards protecting vital services.
The council said the leaflets had cost a total of £21,000 to produce and post.
Ms Dore said that without sending out the letters, members of the public would not have had the chance to put forward their views.
She said: "This is [the public's] opportunity to respond and participate in what is a very, very difficult budget-setting process.
"They wouldn't get a chance to understand what dire circumstances we're in with these cuts and what it means to Sheffield."
The leaflet explains to members of the public that the council has a £1.5bn annual budget and gives examples of some of the big costs involved.
It says that maintaining Sheffield's parks cost it about £7m a year, while libraries, museums, galleries and leisure centres altogether cost £33m a year.
"It's all those other things that we need to know what's important to people," said Ms Dore.
"[For example], is it important to cut the grass in parks on a weekly basis or would it be acceptable to cut them fortnightly, so we can keep libraries open more than we would? It's those sort of choices that we're expecting people to tell us about."
'Glorified PR stunt'
Shaffaq Mohammed, leader of the opposition Lib Dem group, said the £21,000 should have been saved by the council.
"Instead of wasting thousands on this glorified PR stunt, the leader of the council should be using this money to protect vital front line services such as street cleaning or road repairs," he said.
Mr Mohammed added that the consultation should have been carried out three or four months earlier because some decisions about next year's budget must have already been made.
"We are now almost at the door of the final closure of the budget process as far as I'm concerned," said Mr Mohammed.
"If Julie Dore was really concerned about consultation [she] should have started this much earlier... Where are the options? What are the details? Where are you going to cut? There's no detail."
People are being given until 6 January to comment.
Ms Dore said she did not expect to receive a 100% response rate to the letters.