Thousands rally against pension plans in South Yorkshire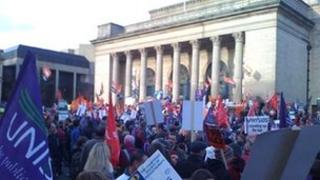 Thousands of public sector workers have marched in South Yorkshire on what has been called the biggest day of strike action for a generation.
In Sheffield up to 6,000 people gathered at Barkers Pool to march in protest against pension reforms.
Hundreds of people also gathered to march in Barnsley on Wednesday morning.
Sheffield Council worker Mark Keeling called the pension reforms "a tax on the hard working of this city and of every other city in the country."
The government said unions are trying to "wreck" the economic recovery.
Cabinet Office Minister Francis Maude branded the action "indefensible and wrong" while Chancellor George Osborne urged unions on Tuesday to "get back round the negotiating table" as he warned the strike was "not going to achieve anything".
The government has said that with people living longer, the cost of public sector pensions is rising and reforms are needed.
Hospitals, schools and council services are affected by the walkouts.
'Second class education'
In South Yorkshire, about 370 schools - 80% of the total - are closed, with a further 40 partially affected. All colleges and universities are affected to varying degrees.
Members of the National Assocation of Head Teachers (NAHT) are striking for the first time in the union's history.
Steve Iredale, head at Athersley South primary school in Barnsley and NAHT national vice president, said plans to make teachers wait longer to retire are ridiculous.
"Retiring at 68 is a joke," said Mr Iredale. "Some individuals can manage it but the job is so difficult nowadays, the pressure is greater than I've ever known it in my 34 years as a teacher.
"My teachers work tremendously hard - we'll end up getting a second class education for children and that's the last thing we need in the current climate."
Others believe closing schools was not the best way for teachers to get the point across.
Kerry Thompson, a dinner lady from Barnsley, said: "It's not the kids' fault that this is happening - they're losing out on going to school.
"Everybody's in the same boat, not just teachers. There are people who haven't even got other jobs. They [teachers] could choose other ways [to make their point]."
'Mentally demanding'
Many clinics and non-emergency appointments at hospitals have been cancelled in South Yorkshire.
Vicky Otley, a nurse at Sheffield's Northern General Hospital, is on strike for the first time in her 27-year career.
She said: "It's a physically and mentally demanding job. I don't want to see myself at 67 going up and down a ward looking after sick people."
Efforts have been made to contact patients who have been affected but hospitals are advising people to check the websites for the latest details.
Refuse collections and libraries will be hit as councils run basic services.