BNP protest at Sheffield primary school sex lesson plan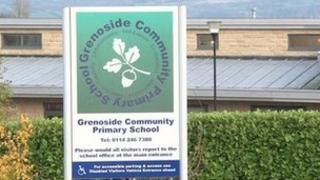 Police have been patrolling at a Sheffield primary school after the British National Party (BNP) protested over plans to teach sex education.
Grenoside Primary School is consulting with parents about plans to teach lessons on sex and relationships.
The move has triggered a protest by the BNP which has called on the school to drop plans or face "further action".
Headteacher Colin Fleetwood said the BNP's actions were "deplorable" and the disruption was "out of order".
Last week parents were sent letters as part of a consultation on providing sex education lessons.
The BNP then held a protest outside the school over the proposals which it said were "deeply abhorrent".
'Unwanted presence'
South Yorkshire Police said officers were "liaising with the school and providing reassurance".
Mr Fleetwood said: "It is incredibly disappointing that the BNP has chosen to interfere in our consultation process on sex and relationship education in this way.
"Their actions are deplorable and the disruption they have made to the school's consultation process is completely out of order.
"There is nothing which we are doing here as a school which warrants this kind of unwanted presence."
In a statement, the BNP said: "Sex education for six-year-olds is mental paedophilia.
"We refuse to stand by while the government, local councils and teachers force this sick agenda on our children."
Insp Steven Mouzer, from Ecclesfield Safer Neighbourhood Team, said: "Police have attended at Grenoside Community School, following a report of people outside the school handing out leaflets about the school's sex education policy
"We are aware that the policy is a concern to some parents and members of the community.
"This is an education matter which the school are seeking to resolve
"The handing out of leaflets and media attention has been a source of concern for parents, children and teachers.
"The local Safer Neighbourhood Team are liaising with the school and providing reassurance while carrying out normal patrols in the area".