FBU disappointed at South Yorkshire fire cuts turn-out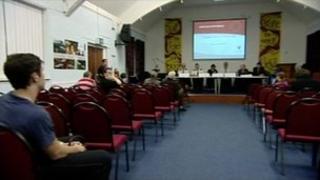 The Fire Brigades Union has said it was disappointed by the turn-out to the first public consultation over fire service cuts in South Yorkshire.
In the meeting held on Tuesday evening five members of the public turned out to share their views on proposed cuts.
South Yorkshire Fire Service is consulting over plans to shed 140 jobs, closing several fire stations.
John Gilliver, from the FBU, said it was "extremely important that the public have their say".
The fire service said it was interested in listening to everybody's views.
'Cuts cost lives'
The service is holding a 14-week public consultation over its plans to save £10m by 2015.
Under the proposals, 68 full-time and 32 retained firefighters would make an overall saving of £2.25m per year, with an additional reduction of 40 full-time firefighter posts from internal staffing changes, making an overall saving for the service of £4m per annum.
The service also plans to close fire stations in Darnall, Mansfield Road, and a part-time station at Mosborough, and replace them with two new stations near the Sheffield Parkway and Birley.
Mr Gilliver added: "I think it needs to go out loud and clear that these are people's lives that are in danger. Fire does kill and cuts costs lives."
Mark Shaw, from South Yorkshire Fire and Rescue, said: "Senior officers and members of the Fire Authority are keen to listen to local views."
A series of public consultations are being held throughout the county until February next year.