Goldthorpe pit strike tragedy memorial rededicated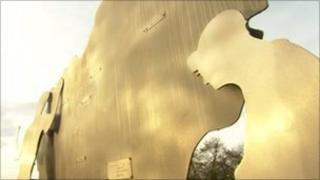 A memorial to two South Yorkshire boys killed while collecting coal during the miners' strike in 1984 has been rededicated at a special service.
Paul Holmes, 15, and his brother Darren, 14, were killed when an embankment collapsed on them at the pit village of Goldthorpe, near Barnsley.
The memorial to the boys was until recently located in the centre of Goldthorpe, but had been vandalised.
It has now been moved to the grounds of Dearne Advanced Learning College.
The teenagers died in November 1984 while collecting coal which they were planning to sell for pocket money.
Local residents and the emergency services tried to dig the boys out. They both died as a result of their injuries.
The memorial to the teenagers was the idea of three girls at Dearneside Comprehensive, the school which Paul and Darren attended.
After the boys' funeral, which was attended by hundreds of people, the girls decided they wanted to create a permanent memorial.
A year later, it was unveiled in the centre of Goldthorpe.
Targeted by vandals
It shows a map of Yorkshire with a miner on each side and a plaque which names the brothers.
In recent years, however, it was targeted by vandals who defaced the memorial with graffiti.
Trevor Holmes, the boys' father, had long campaigned for it to be moved to a better location.
Mr Holmes said the memorial to his sons served as an important reminder of a tragedy which hit the whole community.
"It shows that people are still thinking about it even today," he said.
The memorial, which was restored by pupils from Dearne Advanced Learning College, is now located at the centre of a garden of remembrance.
The garden is dedicated to the two brothers, as well as other young people from the Dearne Valley who have lost their lives.
College Principal Neil Clark said he would ensure the memorial garden would be well cared for and added families could come and visit it at any time.
"The one thing we can absolutely guarantee is that as a community we will tend the garden," he said.
"Hopefully that will give them some comfort."